New York, New York.
"If I make it there, I can make it anywhere," – so on and so forth.
If you're smart, though, you'll know that beyond Sinatra lyrics that the Big Apple has served as ripe breeding ground for some of the biggest Rock acts and musical revolutions throughout the decades. From The Strokes to Ramones. Living Colour to Television on the Radio. The hotbed element to the music scene in the Big Apple is undeniable.
The same can be said about the music venues of the city. Before you can sell out the Garden, you've got to cut your teeth somewhere in Brooklyn. Before Webster Hall, you're struggling to get booked at an awesome place in the East Village.
Here, we'll take a look at some of the top acts coming out of Brooklyn and Manhattan and the audience friendly venues to check them out at. Who's the next Strokes? Where's this generations CBGB?
This list is in no particular order, each band is wholly unique and fantastic.
Notice: Continue this article if you want to get to tell your friends "I knew them when…"
With mesmorizing harmonies reminscent of something off of the Village Green Preservation Society and angsty, blistering guitar that echoes New York City rock icons Television, The Gradients have been a mainstay in New York music for a while. Taking there talents on tour every now and again, you can often find them at Shea Stadium in Brooklyn – a popular intimate dive whose charm is found in its ratty couches and outdoor patio area. The Gradients aren't afraid to yell studly, scathing lyrics very loudly over melodies that are equal parts dirty dishwater and catchy. Like, their choruses will get stuck in your head, but when you're fucking pissed about something.
Like them on Facebook to keep up with their music and dates: https://www.facebook.com/thegradientsnyc
---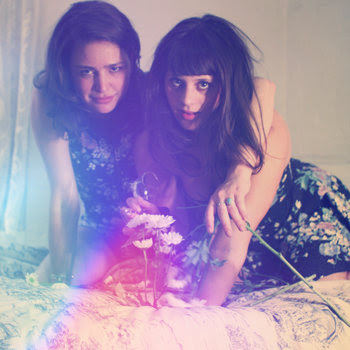 Describing themselves as "Doo-Wop Folk Rock," Stabwounds is a two-lady act that can soundtrack a generation of sexually charged hopeless romantics. Don't call them cute – their music is beautiful and playful but their lyrics are laden with lip-stick stained "sorry not sorry's" and tinged with the fury of the fabled woman scorn. The dychotemy between their charm and their chomp makes them such an enjoyable listen and live they are not short on charisma. I most recently caught these femme fatales play at the Rockwood Music Hall, a chic Lower East Side bar and lounge that feels like your local cafe's cool older sister.
Like them on Facebook to keep up with their music and dates: https://www.facebook.com/StabwoundsMusic
---
No Shoes is crazy. Their off beat, multi-layered ogre-art punk sound would keep you on the edge of your seat in anticipation with dizzying but satisfyingly amoebic time signatures if they weren't playing standing room only shows. Despite listening to No Shoes being an eccletic experience, their music sounds masterfully whole. I first saw them wilding out at one of the NYC area's most popular venues – Pianos. A great bar with delcious food and front and an intimate place to get loud in the back.
Like them on Facebook to keep up with their music and dates: https://www.facebook.com/NoShoesNY
---
This group was born out of a friendship that dates back to elementary school and it shows in their music. Slonk Donkerson's gotta sound that laces tongue-in-cheek in jokes from millenial mindsets with everything that was good about 80's music, resulting in quite the punch. They're a mainstay of Muchmores – a coffee house, bar, and host to comedy, public forums, and music all rolled up into one, making it a perfect marriage for this DIY group.
Like them on Facebook to keep up with their music and dates: https://www.facebook.com/SlonkDonkerson.music
---
Originating upstate where they formed at Bard College, Palberta is another girls-only act – only this time it's a fierce pop-punk trio that sounds like the missing piece of the Scott Pilgrim soundtrack (I mean this in the best way). Each of their catchy and pithy tracks are powered by brave and creative choices that make them undeniable. They recently played the New Years Eve show at Aviv – the new and evergrowing Greenpoint, Brooklyn venue that's beloved for its size and its ownership.
Like them on Facebook to keep up with their music and dates: https://www.facebook.com/palbertamusic
---
Probably the most "on-the-cusp" of the bunch, I'm not the first to write about Quincy Vidal. Iconic Hip-Hop periodicle XXL recently wrote up on their act, in a case of real recognizing real. These Brooklynites have their ears to the ground, their feet firmly planted down to earth, and their hearts in the music. It shows live and through your stereo, as you'll feel haunted by the ghost of A Tribe Called Quest and a catharsis only felt when feeling the winds of change. They recently played Arelene's Grocery, a quaint and hip former butchery that The Strokes once called home.
Like them on Facebook to keep up with their music and dates: https://www.facebook.com/quincyvidal