6. This air-fryer that lets you get the best of both worlds–fried food and still staying relatively healthy.
"This little machine has changed our families lives! My boys love it and it's super easy for my 10-year-old to operate. Their chicken nuggets are done in 10 minutes and you don't have to wait for the oven to heat up or have to fry in oil. We are trying new things each week and we haven't had a bad thing come out yet!"
7. This Calvin Klein sports bra that will hold your girls in all day long and keep you comfy.
"This is my favorite bralette I own. The small fits me great and I'm a 32C, for reference. I got it in red, and its a really bright, fun color. It's good quality, and I think definitely worth the price. It's so cute and I feel so confident in it."
8. This strap-on strainer that makes straining pasta easier than ever before.
"Oh my goodness. I really didn't have confidence that this gadget would really work and I was wrong! It works perfectly. The clips really feel like they will last years and possibly forever. They don't seem like the type of clips that will give out soon. The material it's made of is actually quite thick and feels very high quality. Super well made!"
9. These popsicle molds that let you make a delicious summer treat out of any fruit/flavor you desire.
"These cups make full-size bars using your own fresh fruit, yogurt, milk, or whatever you want to add. The cups snap firmly into the bottom tray, creating a compact, secure unit to slip easily on the freezer shelf without concern that they will tip over and make a mess. I've made my own frozen treats for years using small disposable plastic cups. I can't tell you how many would tip and spill all over. These are just great!"
—EKG
Get them on Amazon for just $8.90.
10. This toaster oven that programs to heat food depending on what you're cooking–so say goodbye to burnt cookies forever.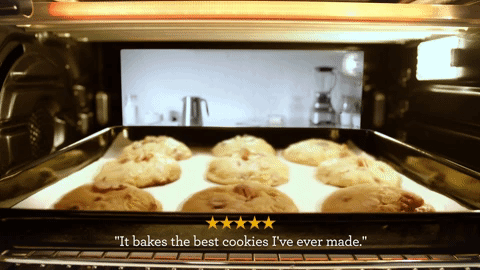 "This smart oven has been a mainstay in my kitchen and is used for most of my baking needs. The quick heat-up time and convection works really well. I even wonder sometimes why I have the larger oven."