If you've got a brother or sister, you've had your fair share of sibling fights. Maybe sis took the remote from you, or brother ate the last slice of pizza that you staked your claim to. The bonds of blood can only extend so far until it's time for someone to catch hands. Fortunately, you're not alone. Every sibling under the sun has these same experiences and they make for some great laughs.
1.
When you used to fight with your siblings over the tv. pic.twitter.com/i47q4OGQvU

— MyBlessedLife (@ZamaMazet1) November 8, 2015
2.
When you and your sibling got into a fight and your mom made you "hug it out" pic.twitter.com/4FsJL3sey9

— brit (@QueenBritttany) May 28, 2014
3.
me trying to stop myself from killing my younger sibling pic.twitter.com/4YAZzPsY5f

— ????? ?????? (@eatjaredtweets) April 13, 2018
4.
I told my brother he can eat half of my grapes pic.twitter.com/ACTqO4B5Mr

— QUEEN J?? (@Jaaaaaymomma) May 18, 2017
5.
me crying when me and my siblings would fight so that my parents can side with me pic.twitter.com/OAg8GXio32

— reggie (@_1942bs) May 13, 2018
6.
when you're mid yelling at your sibling for taking something that's yours but then you find it pic.twitter.com/f2jn9HDkWl

— matthew. (@__HakunaMATTata) June 19, 2015
7.
When u tell ur sibling to go ask mom/dad for something but they mention ur name when asking #GrowingUpWithSiblings ? pic.twitter.com/SQuxPIc9hy

— Majid Ali (@MajidalikhanPTI) July 20, 2015
8.
Mom: "Do you want this?"
Me: "No."
Mom: "Ok I'll give it to your brother."
Me: "No I want it."

— Tricia (@Im_Tricia) December 24, 2011
9.
10.
When you parents told you to give half your food to your siblings #GrowingUpWithSiblings pic.twitter.com/zfvRUIcWuA

— Crow-Kun. (@PeaceLoveZuccro) October 6, 2015
11.
#GrowingUpWithSiblings when you're the youngest and referred to as "oh, you're _____ little sister" pic.twitter.com/gIZ7LGJtk8

— Lexa (@AlexaaRaeee) July 19, 2015
12.
when your pet walks over to your sibling instead of you pic.twitter.com/2tJotdEEhR

— ? (@wxvves) December 21, 2014
13.
14.
when your siblings are pissing you off but your parents are in the room pic.twitter.com/ntve7Hojrs

— Funny Or Fact (@funnyorfact) March 18, 2014
15.
16.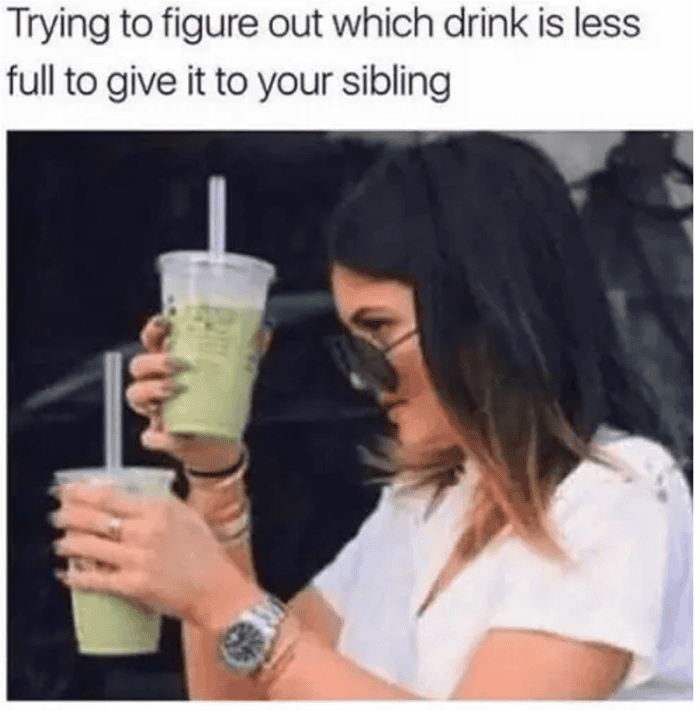 17.
18.
When you're play fighting with your sibling and you guys break your moms favorite vase and she asks who did it pic.twitter.com/M3XHRwsWXJ

— Do it For Lil Saint (@NewLifeWhoDis__) May 25, 2015
19.
20.
21.
When your sister slapped you at 08:39 am but when the parents enter the house at 17:00 pm,you be like….#MyChildhoodInAMeme pic.twitter.com/t0zoDsvgUQ

— Thatso (@Thatso_vm) March 25, 2017
22.
when your iPhone charger breaks but your sibling has one that works pic.twitter.com/ote13FzBjD

— Funny (@awkwardposts) June 12, 2017
23.
#growingupwithsisters accurate pic.twitter.com/0Xb1rZMyUo

— smalls (@allitakenaka) November 15, 2016
24.
#GrowingUpWithSiblings going through their stuff and hearing them coming up the stairs. pic.twitter.com/rlC3oSlIgh

— R (@thewayarislays) October 2, 2015
25.
#GrowingUpWithSiblings
"I barely touched you!!!" pic.twitter.com/rSTxiQqefv

— devon (@devonchopstick) July 5, 2016